Societal Fear of Technology (Update #3)
Hope everyone had a great start to Spring! I wanted to focus this update on the intersection of technology, design, and societal reception toward innovation.
Societal Fear of Technology
People conceptualize a lot of technology innovation today from what they read about in books and watch in TV/Cinema. Many of these ideas are exciting: flying cars in the Jetsons or medical breakthroughs in Black Mirror. But I think they only tell a small part of the story of how the inputs we receive influence our thoughts on the future of technology. In fact, I think we are conditioned to be skeptical of invention. Innovation is change, and change is scary.
Historically, there is a lot of precedent here. Even the notion of writing itself, arguably one of the most important breakthroughs in history, was once seen as an invention to be scrutinized. Plato said in 370 BCE that "writing is a step backward for truth", while Socrates refused to write because he thought writing would portend forgetfulness rather than gained wisdom. The Printing Press faced a similar conversation after Guttenberg came up with the idea in the 15th century. The New York Times warned in the late 19th century that the telephone would invade people's privacy and was a slippery slope; one writer opined that "we will soon be nothing more than transparent heaps of jelly to each other".
Aldous Huxley's A Brave New World is a good example of this. The book was published in 1932, with the world 14 years removed from WWI and in the midst of a global depression. Yet despite this backdrop, the novel's primary theme concerns the potential that technology possesses to control people and society. Whether this be through entertainment machines that induce a leisure state of mindless activities for people to find the "feelies" (hello Tik Tok time spent per use growth), or new biomedical processes to control the lifespan of the population, technology has one use in the book: enable the state to control people. As Huxley writes in the book, "technological progress has merely provided us with more efficient means for going backwards". Technology leads to people understanding less, and grasping to find a truth in this brave new world. As Huxley also writes, "Great is truth, but still greater, from a practical point of view, is silence about truth". Without an accepted truth, there is no ability to trust technology. Huxley seems to think the silence is around challenging why new technology is created. And this is understandably so—inventions are not explained to the public in the novel, leading to warranted skepticism and dismissal.
This perception is not limited to books. In fact, I'd argue it is present in one of the most famous and mass-appealing franchises of the past 50 years: James Bond. The first Bond movie, Dr. No, places a villain using the latest technology of the time— an atomic-powered radio beam—to disrupt a space launch. Dr. No was just the beginning; the organization SPECTRE that he was part of constantly leveraged the control of technology—or moreso it falling into the wrong hands—as their conduit to do evil.
While I do not think there is a catch all cure to dispel societal fears of new technology, thus expediting its widespread adaption, I think there are a few core elements to help alleviate certain technological qualms. One is the concept of "trust and transparency", our core principle I wrote about in Update 1, and the reason we will be building in public in the near future. But to me, just as important is design. I think great companies that have changed paradigms did it through design. Whether it is what Steve Jobs and Johnny Ive did at Apple, or how Stripe was able to make people feel comfortable with credit cards following them around, effective design and UX conveys transparency and trust.
This is why we spent a lot of April focused on design, with investments in the near and long term. We worked with a wonderful designer to change our logo and color schema (see below for what is coming), and made two incredible hires in the space (also more on them below). I see a lot of companies—normally enterprise dev tools— use dark pallets these days. To me, that's scary to the public. It may appeal to devs, but it won't build trust. We want to have an inviting design from Day 1—both in the dashboard companies will use, the sign-up flow people will go through, and the eventual app people will control their data in. Every step will be clear for people. It won't be scary. It will be a brave new world that invites them in, and that they would like to visit.
Goals From Last Month
End the month with a team of four
We beat this goal, and actually doubled our headcount this month to a team of six. See bios below for our new hires, a group we could not be more excited about. I think Fast was a real Black Swan event leading to the higher numbers, but we kept our bar just as high. We had to pass on a lot of amazing people who I am hopeful we can bring on at a later date. This month we offered 4 candidates; the below 3 signed, and I am quite confident the final one will be signing on Monday to give us a 100% close rate. I considered waiting to make that official to send the update, but due to some timely asks with upcoming travel I wanted to send now.
Founding Software Engineer (Elliott Forde):  After graduating from MIT in 2018 with a focus on computer systems, Elliott started his career in the early days of Robinhood where he first built up the crypto product from the ground up and then helped to scale the core brokerage product to more than 20 million customers.
Founding Designer (Pedro Marques): Pedro has over a decade of experience in product design. His app Tangerine was showcased on Apple's WWDC 2021, and has won both App of the Day + Month and the Developer Spotlight. He most recently led design for Fast's internal products and initiatives, such as Design Systems, Fast Site and Admin. Previously he led the redesign of Kyte's website and apps, doubling booking conversions post launch and led the redesign of Personio's payroll, increasing its usage by over 30% in 30 days.
Founding Frontend Engineer (Rafael Motta): Rafael and Pedro form a dynamic duo now spanning four companies. Most recently, Rafa was an IC at Fast working on the core checkout product. Before that, he was a tech lead at Kyte, where he lead a team of 15 engineers after starting as a staff engineer where he the development of their new website for Desktop and Mobile, which increased conversion rates by 100% and reduced the lead time by 90%. His first company with Pedro was Personio, where he worked on the payroll product. We are so excited to reunite Pedro and Rafa—can't beat their chemistry!
Continue to make meaningful progress on product
Built Footprint's core data layer, our foundation for the enclave-encrypted data store.
Initial progress on Footprint onboarding flow
Architected and began to build out our core onboarding and 1-click APIs
Through discussions with potential customers and future design partners, we've reached a simplified and clarified view on how the initial Footprint product flow should work
Begin conversations with data vendors
Have 10 productive conversations with possible customers
Conversations have been going well—we are excited by the early feedback we have gotten, though know a ton of work must happen in between that and closed contracts. It was also truly a rush to get our first inbound sales request—had a great call with that CEO this week and they plan on using us for KYC + PII vaulting when we launch in the fall!
We are excited to get closer to being able to demo by June to progress these conversations, and with the team coming together, will be shifting much more of my time to focus on sales (recruiting will always still be a top priority, but why not make 25 hours in the day :)).
Goals For this Month
We've set an aggressive deadline of early June to get to a fully end-to-end demo-able  product
Make 2 more tactical hires (backend infra, fullstack, and possibly infra)
15 productive conversations with possible customers
Where We Could Use Help
I am attaching a new sales document here. We'd welcome any intros to customers across consumer-facing fintechs such as credit cards and investing apps, payroll, banking, or any other companies you may know with a KYC need.
New Logo
Here is the logo presented across some color pallets. I tried to embed an animation, but sadly can't figure out how to do in email. As you can see, the logo is a negative of an F for Footprint, but also shows the outline for an anonymous person on an ID card.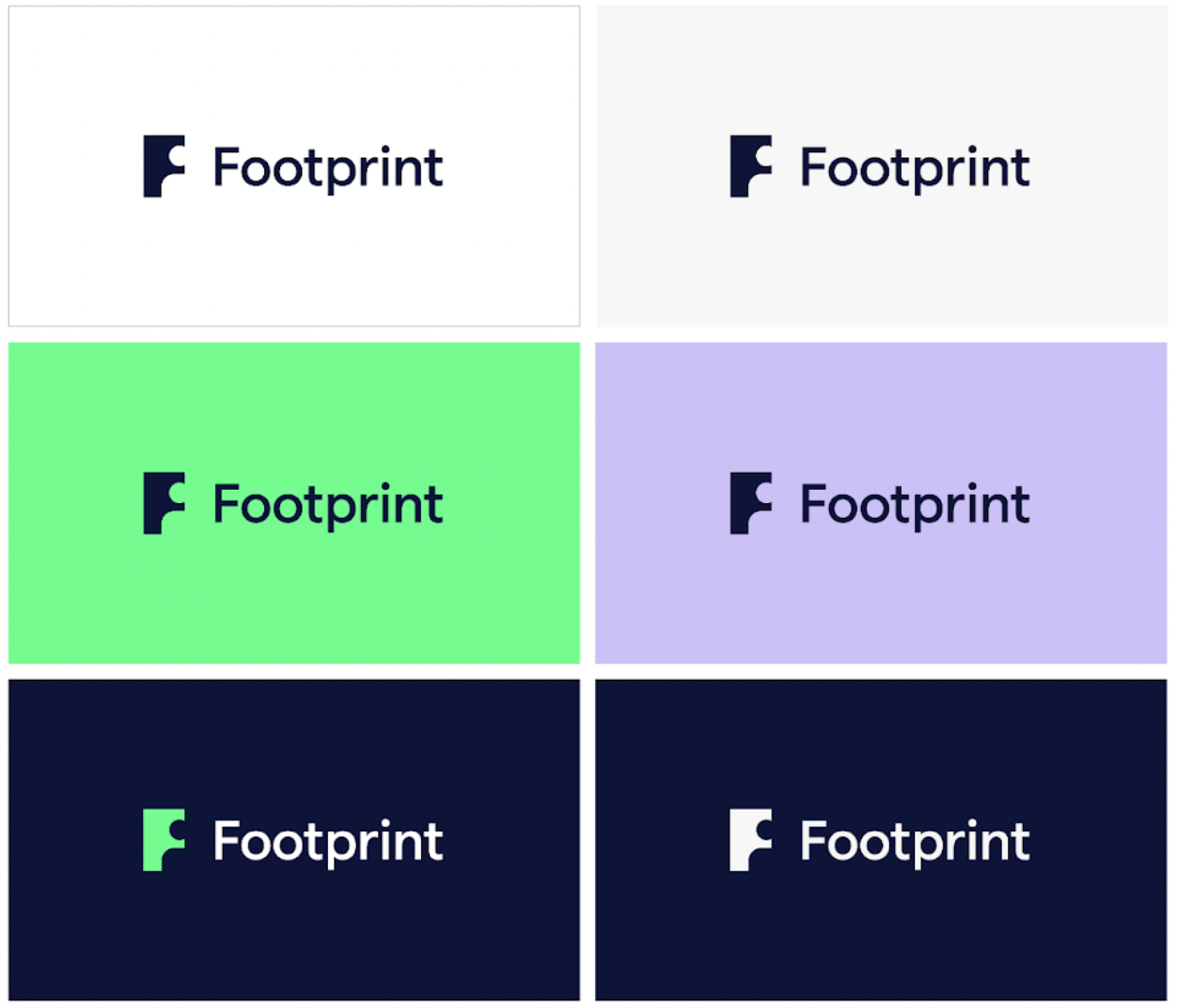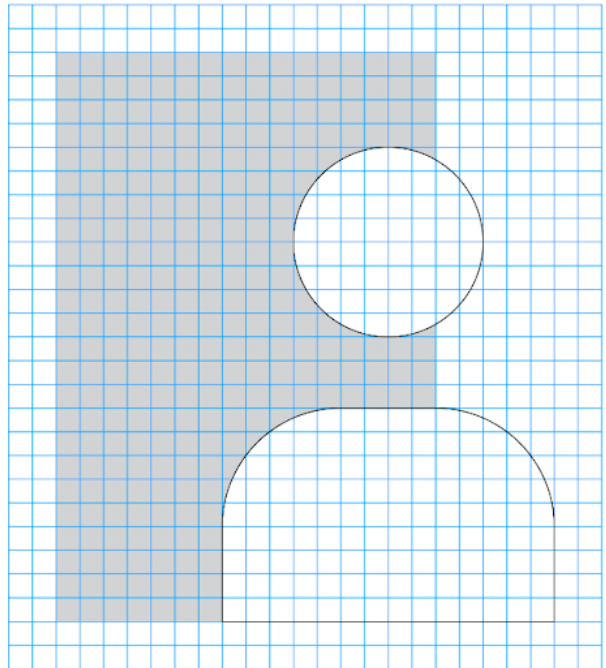 Upcoming Events/Travel
Alex and I will be in Boston May 2nd-3rd
Alex and I will be in SF May 4th-6th
Alex and I may be in Seattle May 7th-8th
Eli will be in LA May 12th-13th
Alex and I will be in NYC May 16th-18th
Note: Some content has been removed from the bottom half of the update to protect privacy of individuals/companies involved.
Subscribe to our newsletter
Receive updates on new blog posts & investor updates